Go Back
The best Google Analytics alternatives in 2023
Are you tired of the complexity of Google Analytics and concerned about the privacy of your website visitors? Discover our alternatives!
GDPR compliance has become a necessity for businesses and startups, but it doesn't mean you have to compromise on website analytics. Luckily, there are many affordable and privacy-friendly alternatives available on Uneed.best, and we've rounded up some of the best for you 😄
If you're looking for a privacy-focused analytics tool that's GDPR compliant and doesn't use cookies, then Wide Angle is a great option. Made by an indie maker from Germany, Wide angle offers a lot of features, including business-grade support, and lots of integrations like Wordpress, Ghost, Webflow, Wix, and more. Starting at just 8.33€/month, it's an affordable choice for any business.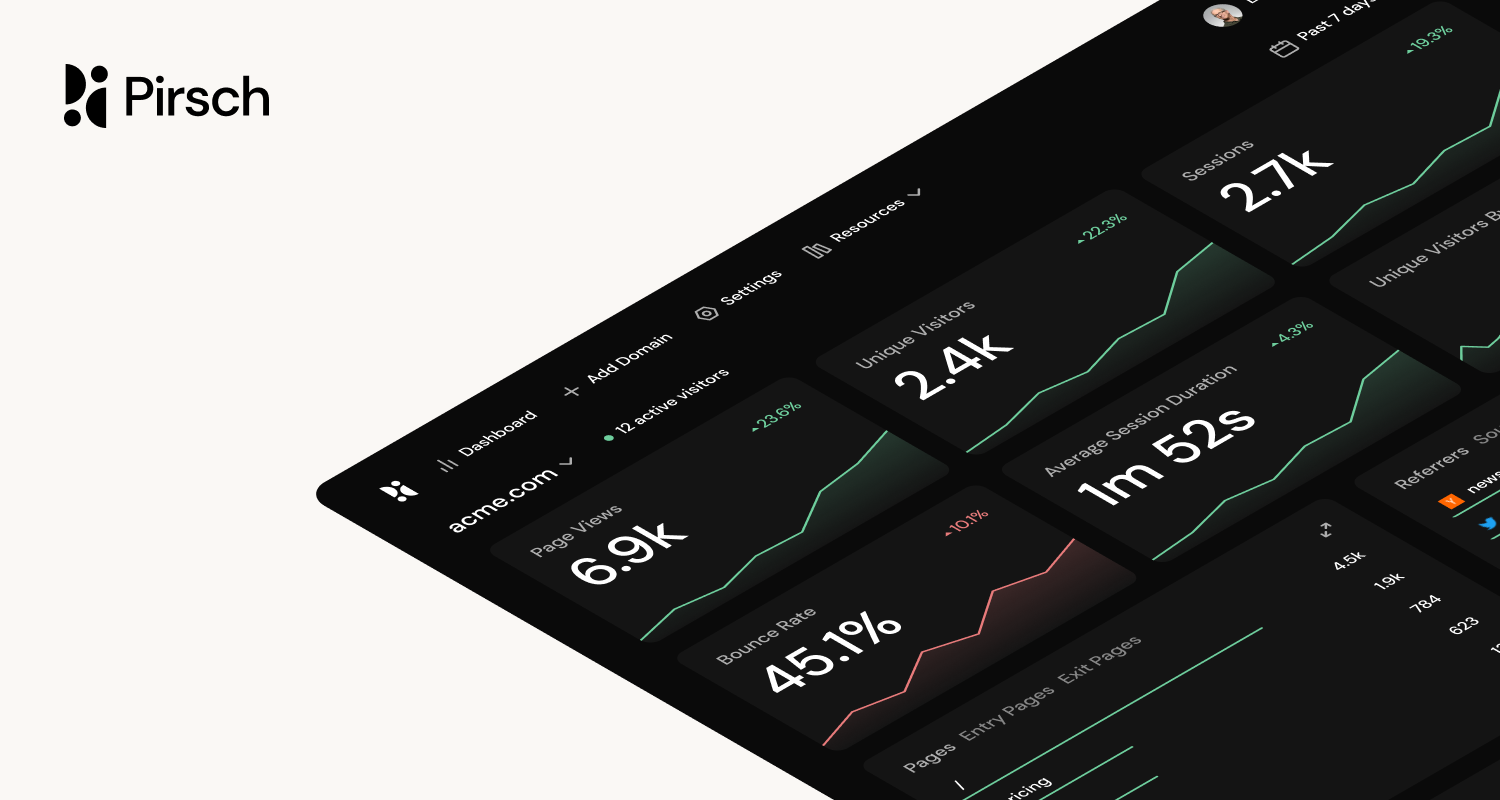 Pirsch is a simple and privacy-friendly analytics tool that's also open source. With its unique and beautiful UX/UI (and honestly my favorite one 🤩), Pirsch offers goals and events tracking, and a powerful API. It's written in GO and can be self-hosted, making it a great option for tech-savvy businesses. Starting at just $5 per month, it's also a budget-friendly choice.
Fathom is a privacy-focused website analytics tool that's compliant with GDPR, CCPA, ePrivacy, PECR, and other privacy regulations. With email reports and unlimited data retention, it's easy to keep track of your website's performance over time. It's also perfect for businesses that want to see their true analytics data, even if people use ad-blockers. Starting at just $14 per month, Fathom is a great choice for any business looking for a reliable and affordable analytics tool.
Personally, I'm not a huge fan of their dashboard: I find the main graph difficult to read 😅. However, unlike most of the solutions suggested here, Fathom is a "big" company, which gives it a more certain future.
Plausible is a lightweight and open-source website analytics tool that's fully compliant with GDPR, CCPA, and PECR. Made and hosted in the EU with an European-owned cloud infrastructure, Plausible is an excellent option for businesses that want to keep their data within the EU. With goals, event tracking, and integration with Search Console, Plausible is a versatile tool that's perfect for small businesses. It's also self-funded and bootstrapped, making it an ethical choice 💪. Plausible can be self-hosted or served as a first-party connection.
If you're looking for a self-hosted analytics tool, then 66Analytics is an excellent choice. Made by an indie maker and offering session recording and heatmap tracking, 66Analytics is fully GDPR, CCPA, and PECR compliant. With a fully-featured admin panel, it's easy to keep track of your website's performance over time. It's also a one-time payment, making it a cost-effective choice for businesses on a budget.
UserMaven is a privacy-friendly analytics tool that provides website analytics and product analytics with pre-built reports. It turns user behavior into actionable insights. What makes it a good alternative to Google Analytics is that it prioritizes user privacy and offers robust analytics features. Its pre-built reports and easy-to-use interface allow users to quickly gain insights into their data without needing extensive technical knowledge. Moreover, Usermaven offers a free plan, making it accessible to businesses of all sizes.
And finally, it caters to privacy-conscious users by safeguarding their personal information and providing secure browsing options.
There are many affordable and privacy-friendly tools similar to Google Analytics available, and some of them could even be better than Google Analytics!
Remember, this list is just the tip of the iceberg, and you can find even more alternatives on Uneed, our hand-curated collection of the best tools on the internet 🔥
Our tools
LogSnag
LogSnag is a tool that helps you track and analyze your business operations in real-time. Our pla...
Majesticons
Iconset with 720 free MIT license icons in two styles. Carefully crafted with and for Figma. Change ...
Startups.fyi
Learn how successful founders are building profitable online businesses and making money online with...