Go Back
The best free icons sets in 2023
Explore handpicked free icon sets that elevate design. Uneed's curated collection ensures cohesive visuals for your projects. Dive in now!
Icons are the unsung heroes of modern design, silently guiding users through digital experiences with visual cues that transcend language barriers. These miniature works of art have the power to communicate complex actions and concepts with a mere glance. But with the multitude of icons available on the internet, how do you find the ones that perfectly align with your project's aesthetics and purpose?
In this blog post, we'll present a handpicked selection of the best free icon sets available on Uneed. These icons cover a diverse range of styles and categories, catering to various design preferences and themes. Each icon set is thoughtfully curated and meticulously organized to ensure that you can find the perfect icons for your projects without the hassle 🤩
Explore a mesmerizing collection of open source icons with Feather Icons. These simply beautiful icons are a versatile addition to your design toolkit. Enhance your projects with elegant visuals using Feather Icons.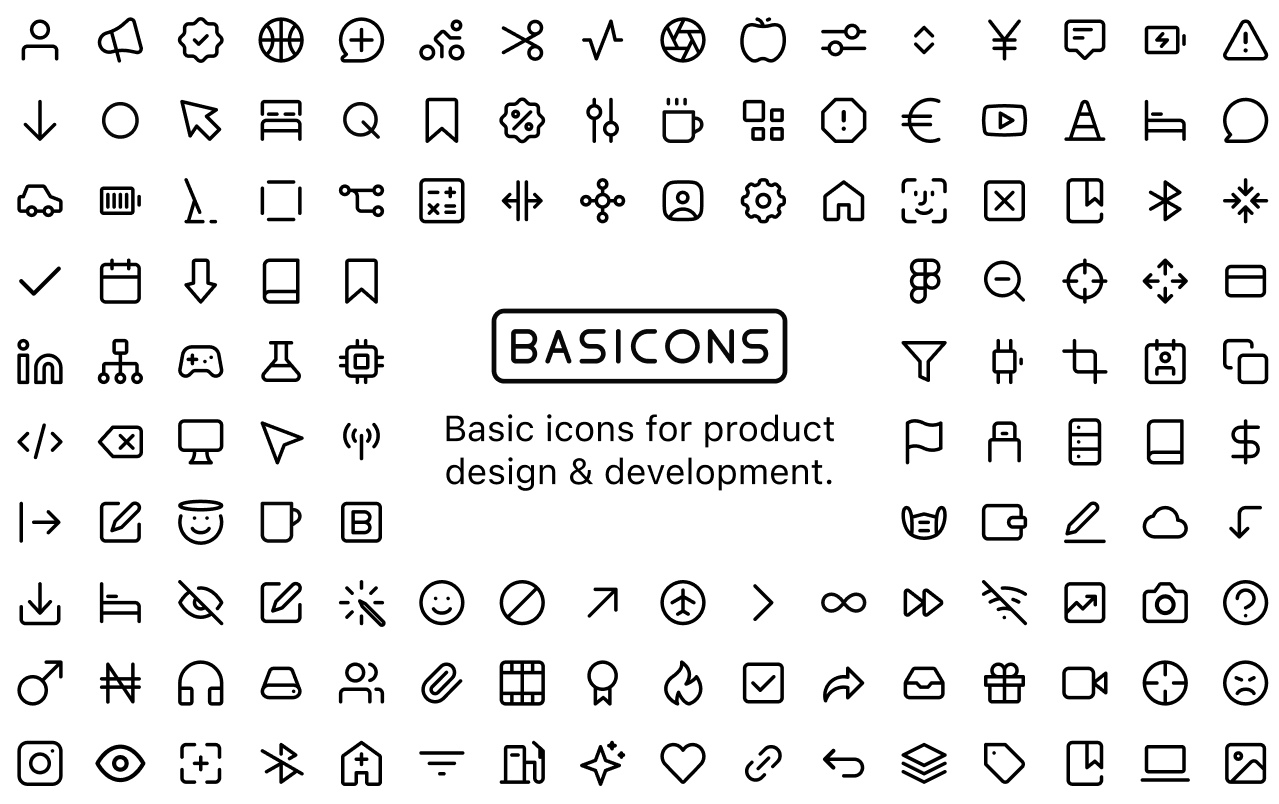 For your product design and development needs, Basicons offers a comprehensive set of basic icons. These icons are the foundation of your visual projects, providing essential visual cues. Explore and integrate these versatile icons into your designs today by visiting Basicons.
Looking for an extensive collection of icons to choose from? Iconmonstr presents a staggering selection of over 4496 free icons, organized into 313 collections. With such a diverse array of icons at your fingertips, your design possibilities are limitless. Discover your perfect icons at Iconmonstr today.
Iconoir
If you're in search of an SVG icons library that epitomizes simplicity and elegance, look no further than Iconoir. With a meticulous focus on crafting icons by hand, Iconoir presents a collection that exudes refinement. These icons, with their clean lines and thoughtful design, can seamlessly elevate the aesthetics of your projects.
Visit Iconoir to explore their extensive library of icons, each a testament to careful craftsmanship. From minimalistic to intricate designs, Iconoir offers a diverse range of icons to cater to your creative needs.
Heroicons brings a delightful array of open-source SVG icons to the table. These icons are more than mere graphics; they are tools for expressing ideas, concepts, and functionalities visually. With a diverse set of icons covering various categories, Heroicons offer versatility for both design and development projects.
Discover the world of possibilities that Heroicons open up by visiting their website. The beauty of these icons lies not just in their visual appeal, but in their ability to enhance user experiences and convey messages effortlessly.
Phosphor Icons offers a dynamic and adaptable icon family designed to cater to a wide spectrum of needs, whether it's for interfaces, diagrams, presentations, or anything else you can imagine. With their versatile collection, you can bring your creative visions to life, making your projects visually engaging and compelling.
Explore the possibilities with Phosphor Icons by visiting their website. This icon library isn't just about aesthetic appeal; it's about making your designs more intuitive and meaningful. Incorporate these icons to communicate ideas effectively, streamline user interactions, and enhance the overall user experience.
Tabler Icons presents an extensive collection of 558 fully customizable SVG icons that can seamlessly integrate into your projects. These icons are not just static visuals; they are tools that allow you to create designs that resonate with your brand and style.
With their user-friendly customization options, Tabler Icons empowers you to tailor each icon to suit your specific design requirements. Whether you're working on a website, app, or presentation, these icons provide the flexibility you need to make your creations stand out.
Visit the Tabler Icons website to explore the possibilities. The icons are designed with a keen eye for detail and versatility, ensuring they align perfectly with your creative vision. Enhance your projects with icons that not only enhance aesthetics but also contribute to a more intuitive user experience.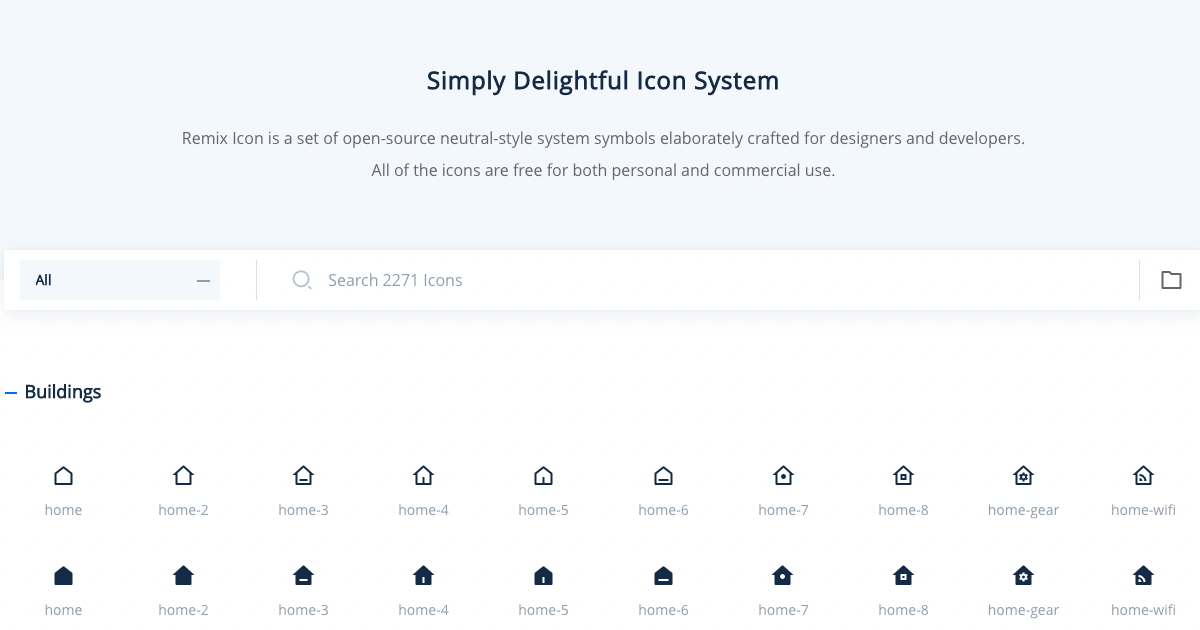 Remix Icon is a treasure trove of open source neutral style system symbols, meticulously crafted to cater to the needs of both designers and developers. This comprehensive collection of icons is a testament to the fusion of aesthetics and functionality.
These symbols are not just symbols; they tell stories and convey messages through their intricate details. Whether you're working on a website, app, or any digital project, Remix Icon offers a rich variety that can seamlessly integrate into your creations.
By providing a harmonious blend of design and utility, these icons serve as an invaluable resource in the creative process. Head over to the Remix Icon website to explore the expansive collection. With their versatility and charm, these icons have the power to elevate your projects and enrich the user experience.
And there you have it, a curated selection of some of the best free icons sets available on the internet. From the simplicity of Iconoir to the versatility of Remix Icon, these icon libraries are a testament to the power of design and creativity in the digital world.
Remember, Uneed is your dedicated companion in the quest for the most efficient and innovative tools. Our daily curated collection ensures you always have the best resources at your fingertips. So, dive into these icon repositories, infuse your projects with personality and functionality, and watch as your creations come to life 🔥
Our tools
Startups.fyi
Learn how successful founders are building profitable online businesses and making money online with...
LogSnag
LogSnag is a tool that helps you track and analyze your business operations in real-time. Our pla...
Majesticons
Iconset with 720 free MIT license icons in two styles. Carefully crafted with and for Figma. Change ...